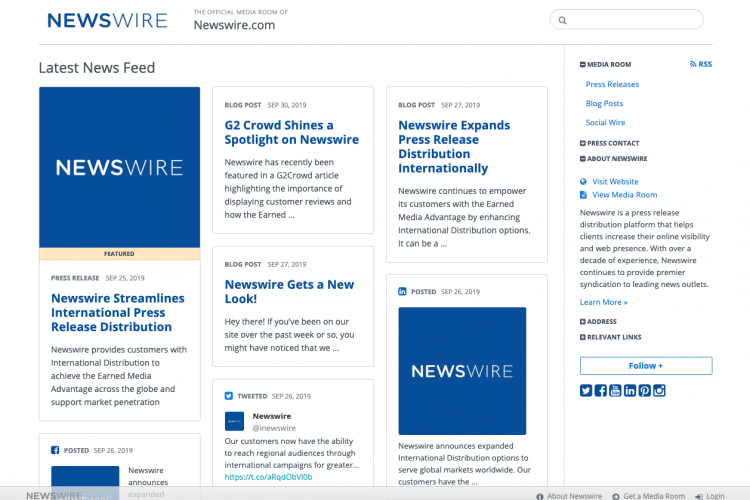 Transforming "Owned" Media into the Earned Media Advantage via Newswire's Media Room
What if there was a way to organize blogs, Tweets, e-books, whitepapers, presentations, etc. into one organized section and gain the Earned Media Advantage? With Newswire's Media Room, that is possible!
Customers are able to convert their owned media into the Earned Media Advantage through a cloud-based Media Room service. It is a secure, comprehensive content management system that gives customers the authority to convert their content and multimedia assets into a fully-customizable newsroom.
"In an effort to provide a service that was simple to understand and simple to use, we dubbed our content management system the Media Room. It's an all-in-one, all encompassing platform that can act as a hub for businesses written content and multimedia assets for the Earned Media Advantage," said Anthony Santiago, VP of Marketing for Newswire.
The user-friendly platform is simple, flexible, and cost–effective, evening the playing field for small businesses to create a striking Media Room on par with enterprise-level companies. This helps any business at any stage have the opportunity to appear presentable to the media. Journalists, producers, bloggers, and other media contacts are constantly scanning company newsrooms for more information. It helps them determine whether or not picking-up their release is worth their time.
Santiago explains, "Journalists and reporters rely on information on businesses and their managed media coverage. The easier information is available the more likely they will cover stories from brands that present their reputable track record with the media in a captivating and professional way."
Using Newswire's Media Room can help increase a business's brand awareness and drive traffic to their website. What better way to organize and display owned media for journalists, potential customers, and investors to look through? A Media Room is an essential component in gaining the Earned Media Advantage. With this, any business owner transforms their owned media into the Earned Media Advantage.