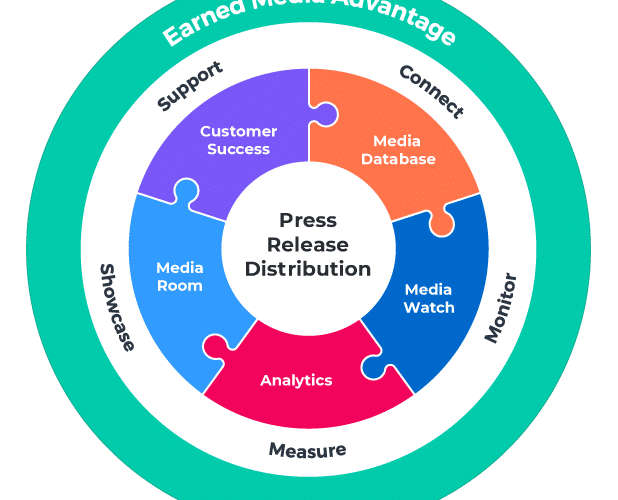 What is the Earned Media Advantage?
If you haven't noticed, we've been "EMA" everything for the past few weeks here at Newswire. The Earned Media Advantage (EMA) is a term that encompasses a lot of different benefits that Newswire has to offer.
Let's learn a little bit more about the what the Earned Media Advantage is and how it is helping small to mid-sized brands compete with larger players in their respective industries.
Defining The Earned Media Advantage:
The Earned Media Advantage is the set of benefits that a business can gain by executing a comprehensive media and marketing communications strategy.
Because the EMA offers a set of benefits, there are many different ways in which businesses can gain leg-up on the competition.
The main benefits are:
Greater Brand Awareness
Increase Traffic to Your Brand
Greater Return on Media and Marketing Communications Spend
Increase Sales
Let's explore these benefits and find out how Newswire helps you gain them:
Greater Brand Awareness

:

Press releases are great for Search Engine Optimization, also known as SEO. A steady flow of engaging press releases can increase your overall presence on the web, as your brand will rank higher in search results when it is typed into engines such as Google and Bing. This means that every time you distribute a press release with your brand's name in the headline, you increase your company's online notoriety.
Increased Traffic

:

If you are looking to compete with larger brands in your industry, you need to drive traffic to your online site. By consistently sharing your company news with effective press release distribution campaigns, you can reach multiple audiences across Newswire's comprehensive network.

Your stories can increase consumer interest in your brand, and in turn bring more visitors to your site and more customers to your business.
Greater Return on Media and Marketing Communications Spend

:

To be transparent, most of the modern media, marketing, communications, and PR services are very expensive. Plus, most PR firms and similar agencies only specialize in one kind of service. Some might do social media management only, whereas others specialize in brand messaging, etc.

With Newswire's services, there are multiple opportunities to use great software and receive dedicated assistance from out team at a fraction of the cost that today's leading PR firms will charge.
Increase Sales

:

With increased traffic and brand awareness, your business has the opportunity to increase the amount of customers coming to your door or to your online marketplace. This in turn can potentially increase your overall sales – making you a true disruptor in the industry.
But Wait, There's More!
What other benefits are included in Earned Media Advantage?
Relationships with Key Media Members of YOUR Industry: With strategic outreach efforts, the Newswire Earned Media Advantage can provide you with the opportunity to connect and foster meaningful relationships with the key members of your industry's media.
How Can I Gain the EMA?
All of Newswire's services can give your business an Earned Media Advantage – whether that be our Media Database, Customer Success, press release distribution, Media Room, Media Watch, or Analytics features.
But if you wanted the BEST way to achieve an Earned Media Advantage … a program that combines ALL of these elements into one year-long experience … we do have something in store for you!
Earned Media Advantage Guided Tour
Newswire's Earned Media Advantage Guided Tour (EMA GT) is a High-Tech Software Delivered as a High-Touch Service that helps customers deliver the right message, to the right audience, at the right time, through the right mediums.
The integrated media and marketing communications utility on-demand combines Newswire's industry experts, award-winning software platform and proven processes to complement the mission-critical tasks associated with increasing sales through multiple channels of distribution.
As a part of the EMA GT, Newswire's Earned Media Advantage Strategists (EMAS) work closely with customers to help develop a comprehensive media and marketing communications plan that is based on a media communications survey that defines press release content value and distribution.
Customers are also provided a comprehensive media and marketing communications calendar, services to set up, operate and manage media databases, media monitoring alerts, statistical analysis, reporting and media room news collection and sharing to ensure Customer Success.
Interested in achieving the Earned Media Advantage? Learn more about the EMA GT here.